Ronda Baldwin-Kennedy "Waste of Taxpayers money defending unconstitutional laws"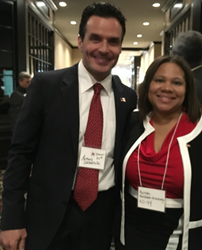 Why are we spending CA and Federal tax dollars to litigate sanctuary
March 14, 2018
SB54 REPEAL SANCTUARY STATE
Ronda Baldwin-Kennedy is an African American female Republican running on the illegal passage of SB54 Sanctuary State. Like President Trump, Ronda believes California's sanctuary policies are illegal and unconstitutional. "We need to enforce our immigration laws not enact laws that tie the hands of law enforcement. Why are we spending CA and Federal tax dollars to litigate sanctuary? Who's footing the bill? Since 2013, illegal immigration is costing taxpayers over $135 billion a year. Tax payers are footing the expense. Sanctuary policies encourage illegal immigration which in turn increase costs.
A path way to citizenship and securing our boarder is the only way to solve this problem. I empathize with illegal immigrant, like African Americans the Democrats are using free of deportation to gain support from illegal immigrants.
Ronda Baldwin-Kennedy, Esq., was born in Milwaukee Wisconsin. She is the Great Granddaughter of that States first black State Assemblyman. Raised to be civically minded, she had worked as a building inspector, before moving west. Upon arriving in California, she entered the world of artist management and concert promotion, then leaving to pursue a career as an attorney.
Keeping in politics, Ronda had worked on several campaigns. She is a member of the California chapter of the Sports Lawyers Association and the National Republican Lawyers Association who helped watch the poll voting integrity. She has been a strong advocate for Californian's to receive fair treatment and a loud voice in fighting injustice. Ronda has been calling for AG Action as soon as the passage happened, however she didn't have a loud enough voice, which is why she has decided to run for Assembly 44.
SB1 REPEAL THE GAS TAX
Working families, single parents, college students, senior citizens on a fixed income and business owners to name a few of those who are struggling with the gas tax. SB1 went into effect January 1, 2018 and is costing Californians an extra 12 cents per gallon and 20 cents per gallon on diesel. The increase in fuel cost will have snow ball effect on the cost of items being transported by truck, items such as food. This tax increase is a slap on the face for working Californians, it is the poor and middle class families affected the hardest by this increase. California has the second highest gas prices in the county, only 2nd to Hawaii, according to AAA.
Ronda is a practicing attorney with offices in Ventura. Owner of her own firm, she understands the challenges many business owners face in California. Furthermore, she is the dean of a California Law School. Moreover, she is a wife and mother of six children (including five-year-old triplets) and three grandchildren.
The following two tabs change content below.
Brad Bennett
Brad grew up in a small town in northern Iowa. He studied chemistry in college, graduated, and married his wife one month later. They were then blessed with two baby boys within the first four years of marriage. Having babies gave their family a desire to return to the old paths – to nourish their family with traditional, homegrown foods; rid their home of toxic chemicals and petroleum products; and give their boys a chance to know a simple, sustainable way of life. They are currently building a homestead from scratch on two little acres in central Texas. There's a lot to be done to become somewhat self-sufficient, but they are debt-free and get to spend their days living this simple, good life together with their five young children.
Latest posts by Brad Bennett (see all)