NewAir Launches Upgraded Cigar Humidor | CC-100H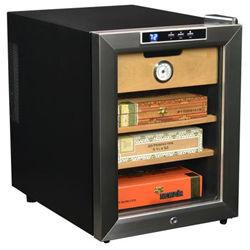 NewAir Electronic Humidor, Climate Controlled | CC-100H
"We got feedback from customers who live in colder climates, and they really want to be able to warm their humidors up to their desired temperature. After all, getting the interior to 70 degrees requires a heater if you live in Minnesota in the winter, instead of a cooler if you live in Arizona."
CYPRESS, Calif. March 14, 2018
NewAir Appliances has introduced a new electronic humidor that offers improved features for serious cigar aficionados. The NewAir CC-100H Electronic Humidor With Climate Control and Lock features both a heating and cooling function in order to help maintain cigars at their optimal storing conditions from 67 degrees to 73 degrees Fahrenheit for full enjoyment.
The CC-110H is an upgrade of NewAir's best-selling CC-100 Thermoelectric Cigar Humidor. "We got feedback from customers who live in colder climates, and they really want to be able to warm their humidors up to their desired temperature. After all, getting the interior to 70 degrees requires a heater if you live in Minnesota in the winter, instead of a cooler if you live in Arizona," said Andrew Stephenson, Director of Product Marketing at NewAir Appliances. "Now people all over the country can enjoy perfect cigars that are ready for any occasion."
Traditionally, cigars are stored in conditions that mimic the tropical climates where they originate, which keeps the tobacco in top condition until the cigars are smoked. Most cigars should be stored at approximately 70 degrees Fahrenheit and at 70 percent relative humidity.
The NewAir CC-100H also features a door lock that allows users to keep their collection of cigars more secure. "We felt strongly about adding this feature to our humidor to help families keep their cigars out of the hands of young children. It's great for peace of mind," said Stephenson.
Like the previous model, the NewAir CC-100H Electronic Humidor With Climate Control and Lock has LED lighting and Spanish cedar shelves and drawers. The new model also stores up to 250 cigars.
About NewAir Appliances
California-based NewAir Appliances is a family-owned manufacturer and distributor of luxury compact home appliances, including everything from beverage coolers to portable laundry solutions. Its wide range of products is carried by the largest retailers in North America, and NewAir is dedicated to exceptional customer service at its responsive in-house call center. NewAir's focus on value and quality over the past 15 years makes the company one of the most trusted names in home appliances. See all of NewAir's products at http://www.newair.com.
Follow NewAir Appliances on Facebook
Tweet us @NewAirUSA
Follow us on Instagram @NewAirUSA
Watch us on YouTube @NewAirUSA
Media Contact: Andrew Stephenson, Director, Product Marketing
Email: press(at)NewAir.com
Tel.: (657) 257-4326
Website: http://www.newair.com
The following two tabs change content below.
Brad Bennett
Brad grew up in a small town in northern Iowa. He studied chemistry in college, graduated, and married his wife one month later. They were then blessed with two baby boys within the first four years of marriage. Having babies gave their family a desire to return to the old paths – to nourish their family with traditional, homegrown foods; rid their home of toxic chemicals and petroleum products; and give their boys a chance to know a simple, sustainable way of life. They are currently building a homestead from scratch on two little acres in central Texas. There's a lot to be done to become somewhat self-sufficient, but they are debt-free and get to spend their days living this simple, good life together with their five young children.
Latest posts by Brad Bennett (see all)