Crowded Stores and More Online Buyers, But Thanksgiving Week Spending Fell Short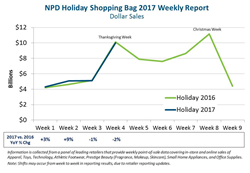 "The increase in shopping traffic didn't result in more spending, so this holiday season has some catching up to do," said NPD's Chief Industry Advisor, Marshal Cohen.
Port Washington, New York December 07, 2017
U.S. consumer spending did not match the reports of in-store crowds on Thanksgiving and Black Friday weekend this year and, according to NPD's Checkout e-commerce information, significant increases in online buyer activity translated into mediocre spending increases on the key days. Declines over the past two weeks have dulled the season's early lead over Holiday 2016 – cumulatively retail sales for the first four weeks are up 2 percent across the key general merchandise categories in NPD's Holiday Shopping.
Week Ending November 25, 2017
Overall Performance
Dollar sales in the fourth week of November 2017 were 2 percent lower than they were the same week in 2016.
Top Performing Categories
Home Automation (driven by Security & Monitoring)
Kitchen Appliances (driven by Cookers)
Digital Media Speakers (driven by Streaming Audio Speakers)
PCs (driven by Notebook Computers)
Home Environment Appliances (driven by Specialty Cleaning/Robotic Vacuums)
"Once again we see practical gifting, and self-gifting, take center stage through Black Friday weekend," said NPD's Chief Industry Advisor, Marshal Cohen. "Consumers seem to have stored up their own home and beauty product needs in order to take advantage of great prices."
NPD's Checkout information shows that the number of online buyers increased by more than 30 percent on Thanksgiving, Black Friday, and the Saturday after, in comparison to the same days in 2016, but only the Saturday after Black Friday saw the average e-commerce basket size increase more than 2 percent.
"The increase in shopping traffic didn't result in more spending, so this holiday season has some catching up to do," added Cohen. "With just three weeks left in the season retailers will be soon pressed into pulling out all the stops with store wide sales, in hopes of capturing more impulse purchases that will help to propel sales."
Information is collected from a panel of leading retailers that provide weekly point-of-sale data covering in-store and online sales of Apparel, Toys, Technology, Athletic Footwear, Prestige Beauty(Fragrance, Makeup, Skincare), Small Home Appliances, and Office Supplies.
Note: Shifts may occur from week to week in reporting results, due to retailer reporting updates.
Checkout delivers the most comprehensive view of consumer purchase behavior for general merchandise categories, across all retailers over time, to help you understand how to adjust your marketing to fuel growth. Checkout E-commerce offers the most complete and accurate view of the online channel – including first and third-party sales for Amazon and other marketplaces, 400+ e-commerce retailers including direct-to-consumer, and an early read on emerging players. Information is collected from more than 3 million consumers, through data provided by our partner Slice Intelligence and NPD's own proprietary receipt-harvesting mobile phone app.
For more information, or to speak with Marshal Cohen, please contact Janine Marshall, 516-625-2356 or janine.marshall(at)npd.com, and visit NPD's Holiday Insights page.
The following two tabs change content below.
Maria Burns
Maria is a Viral News Editor who graduated from the University Of California. She likes social media trends, being semi-healthy, Buffalo Wild Wings and vodka with lime. When she isn't writing, Maria loves to travel. She last went to Thailand to play with elephants and is planning a trip to Bali.
Latest posts by Maria Burns (see all)