Colorado Small Business Defaults Down in January, Borrowing Up: PayNet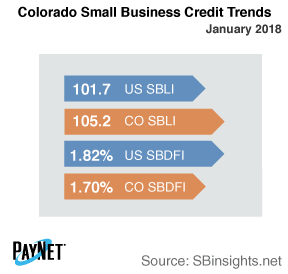 Press Release – updated: Mar 14, 2018 13:56 CDT
Denver, CO, March 14, 2018 – Fewer small businesses defaulted on existing loans in Colorado and the level of borrowing activity rose in January 2018, data issued by PayNet illustrate.
After a 5 basis point drop from December, Colorado's PayNet Small Business Default Index (SBDFI) at 1.70% was 12 basis points below the national SBDFI level of 1.82%. Lower default rates over the past year signals improved financial health in the state. The national SBDFI declined 2 basis points over the last year, while Colorado's SBDFI declined 32 basis points.
The industries with the highest default rates in Colorado were Information (3.08%); Transportation and Warehousing (3.06%); and Mining, Quarrying, and Oil and Gas Extraction (2.85%). Nationally, Information had a default rate of 3.14%, with a difference of +0.83% compared to the prior year, while Colorado had a variance of +0.82%.
Coming in at 105.2, the PayNet Small Business Lending Index (SBLI) for Colorado improved 1.7% from last month's state level and was 3.5% greater than this month's national SBLI level (101.7). The Index is basically unchanged from a year ago.
"The financial health of small businesses displayed through this data creates an environment that is attractive for financial growth," explains William Phelan, president of PayNet.
Source: PayNet
The following two tabs change content below.
Jasmine Petters
Jasmine hails from the city of Nizams, Hyderabad, and is currently pursuing her M.D. from there only. She is an internet wizard and has keen passion in All Things tech. She is a regular Comment contributor for The Daily Telescope and writes a Web column, in which she covers war, sports, and everything in between.
Latest posts by Jasmine Petters (see all)